Highly Strung Rock and Roll Orchestra
Click here for our Facebook page!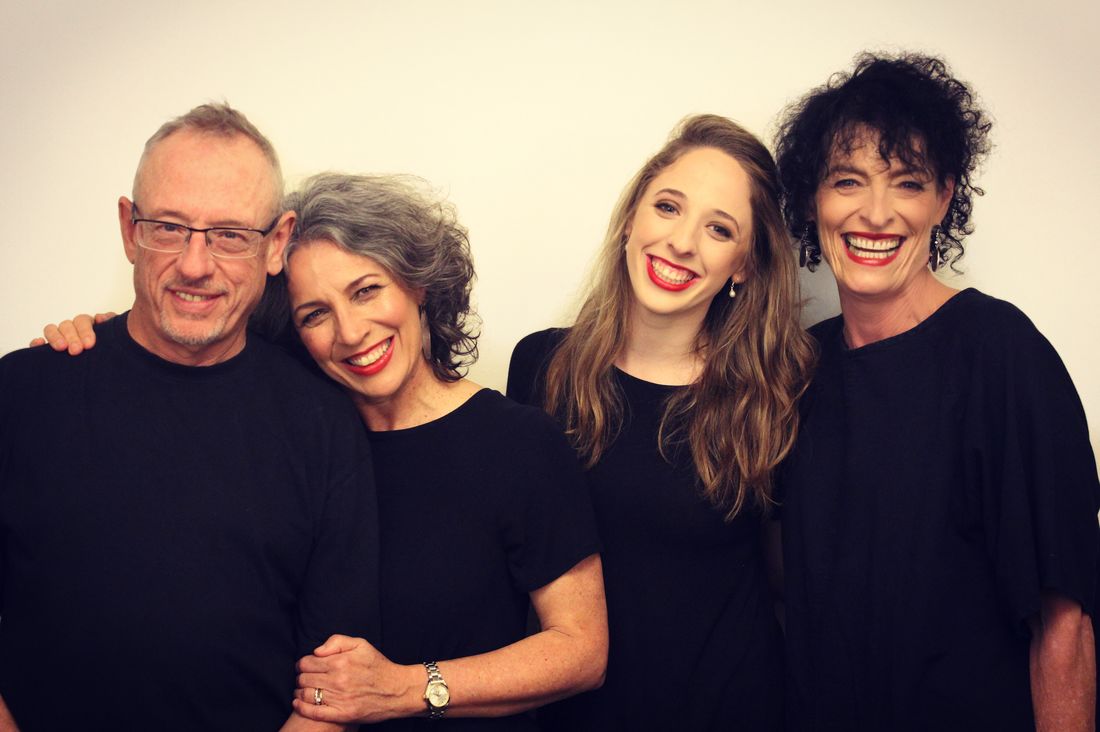 New CD out now!
We have just received our new album from the factory!
If you would like to order a CD you can pay via the button below, and the CD will be mailed to you.
It will also be available for purchase at our gigs on P&O cruises.
---
The CD is $20 + $5 shipping.
Note that the total of $25 is inclusive of shipping, and will automatically appear on checkout.
Here are samples of some tracks for you to preview...
Below is a preview of the cover...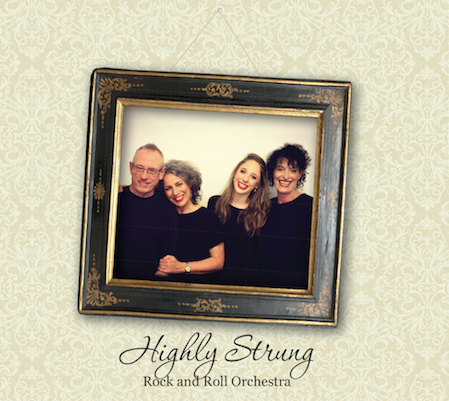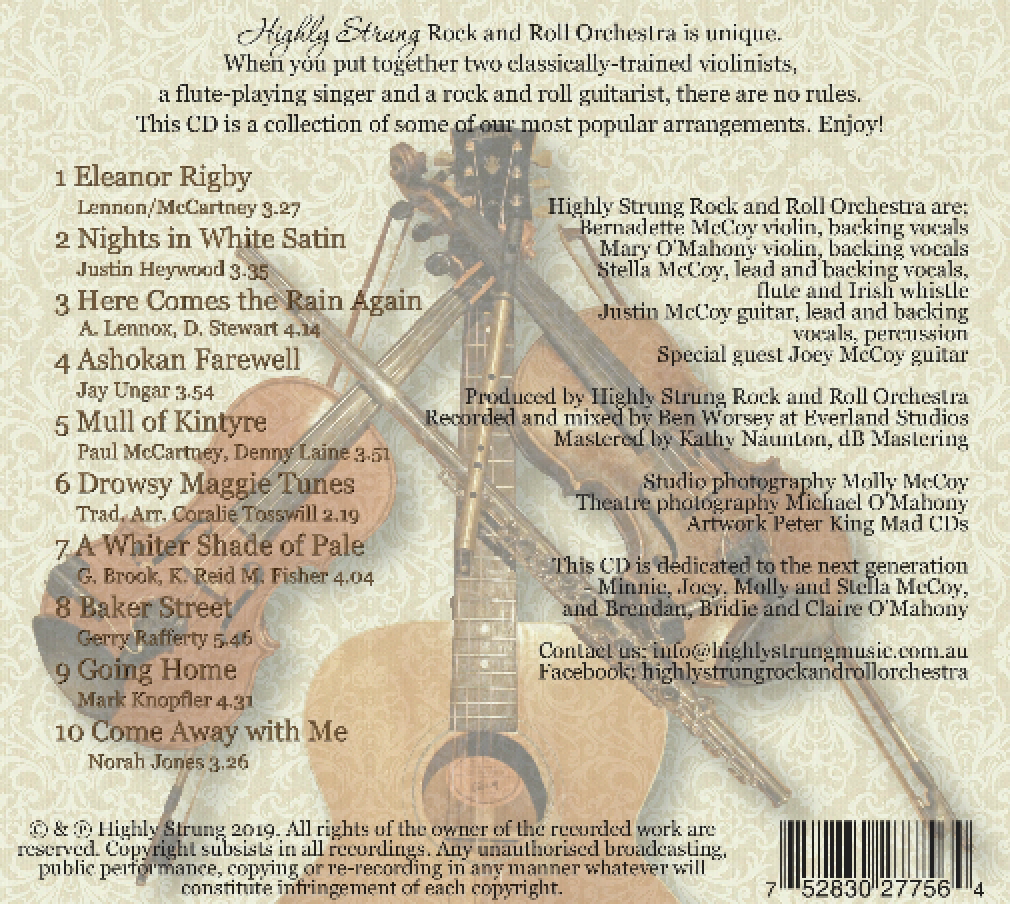 ---
Here are
some recording session pics.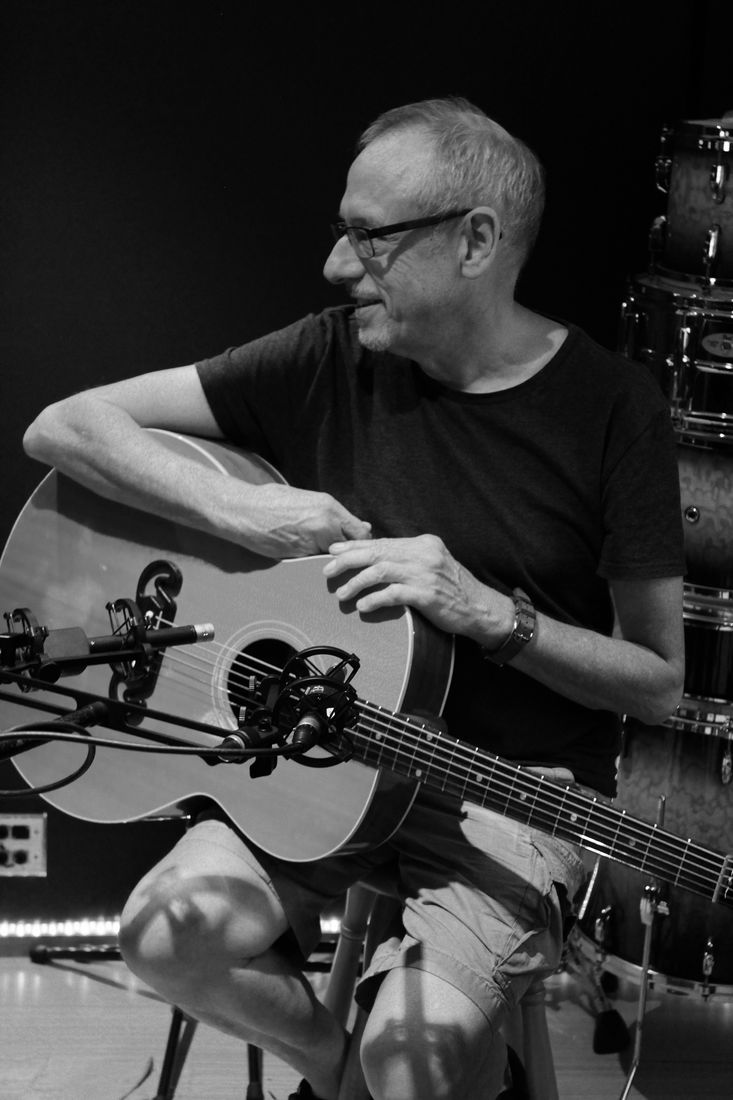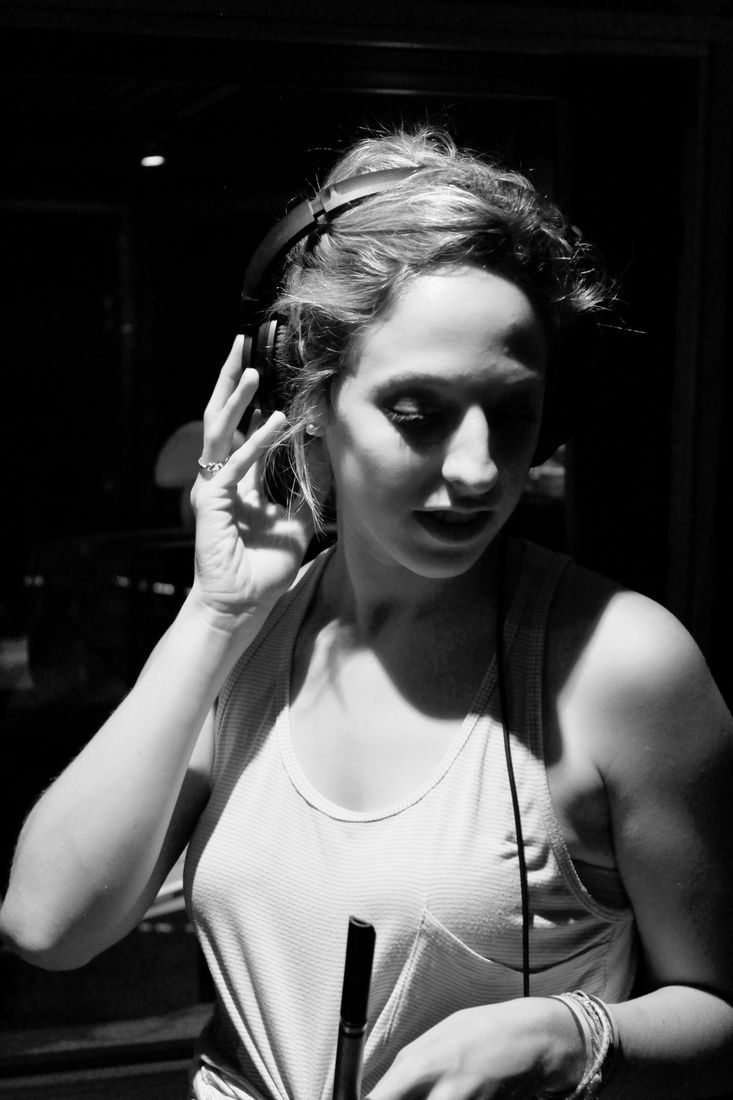 Photography by Molly McCoy
The lineup is two electrifying violins, flute/Irish whistle, acoustic guitar, male and female lead vocals along with 4 part harmonies.
Mary and Bernadette (sisters-in-law) play violins, Stella (Bernadette and Justin's daughter) is lead vocalist and woodwind section, and Justin (Bernadette's husband, Stella's Dad and Mary's brother) supplies the rest of the band's sound through his amazing acoustic guitar playing.
Background
Bernadette, Mary and Justin are founding members of the immensely popular Sydney classical/folk/rock group Hat Trick. Hat Trick bought classical music to the venues of Sydney, and subsequently on tour throughout NSW, Melbourne and Brisbane, in what was termed by one reviewer as 'bringing Mozart to the Masses'. This was purely because Mary and Bernadette were both classically trained and when invited to accompany Lester Coombs for a segment in his Country Club Show 'Are you Ready for the Country', by Lester's musical director at the time, Justin McCoy, they were inadvertently introduced to a whole new world!
Justin and the boys in the band invited the 'classical string section' into the pubs with them, assuring the girls, all they needed to do was keep doing what they were doing and the boys in the rhythm section, would just rock up their classical music. It was so much fun for Mary and Bernadette, and expanded their musical horizons. With the influence of Justin and then members Glen Barwick, Ross Sampson and Doug Martin, Irish, Bluegrass and folk music became part of the girls' repertoire…Hat Trick was born!
Guitarist Michael Fix and drummer Rob Dearlove joined the band in '84/'85 and the band's sound evolved to include contemporary rock as well as Irish and Classical. Through out the 80's there were not many music lovers who had not come across the sounds of Hat Trick either from venues such as their local pub/wine bar/club, to nationwide television performances on Ray Martin's Midday Show, Kerri-Anne Kennerley's Morning Show or Clive Robertson's Newsworld.
While Mary was raising triplets, and Justin and Bernadette their 4 children, their performing moved into the corporate world of functions and events.
During this family-raising time Justin began his very prolific career in writing original music for television shows. He won the prestigious award from the Australian Guild of Screen composers for his music for the ABC children's TV series 'Petals' in the category "Best Music for a Children's Television Series".
At this time Justin also began a long-lasting collaboration with Greg Grainger of GraingerTV Australia, writing original music and post-producing audio for documentaries produced by Greg for Chanel 7 and the ABC through 'The World Around Us', 'Travel Oz' and 'Dangerous Destinations' series.
Highly Strung Rock and Roll Orchestra
In December 2016 Joey, Justin and Bernadette's son, was working as a guitarist with various duos performing on P&O Australia ships. He was joined by Bernadette, Mary and Justin, and Highly Strung Rock and Roll Orchestra was born. The sound still took its influence from the Hat Trick days with Joey soon getting his very talented fingers up to speed with Offenbach's Can Can and Mozart's Eine Kliene Nacht Music along with the Irish Drowsy Maggie tunes and jigs, and he brought Crowded House and Steve Earle influences to the repertoire. The line up of 2 guitars and 2 violins, was to change 6 months after its inception, with Joey leaving the band to take up an offer overseas of work. Stella, Justin and Bernadette's youngest daughter was only too willing to pause her Bachelor of Music degree to add her beautiful voice along with her flute and Irish whistle playing to the group. This opened up the addition of new arrangements with music of The Eurythmics, Fleetwood Mac, Norah Jones, The Corrs and more.
Highly Strung Rock and Roll Orchestra are performing regularly on P&O Australia cruises in 2019...check our Facebook page for dates.